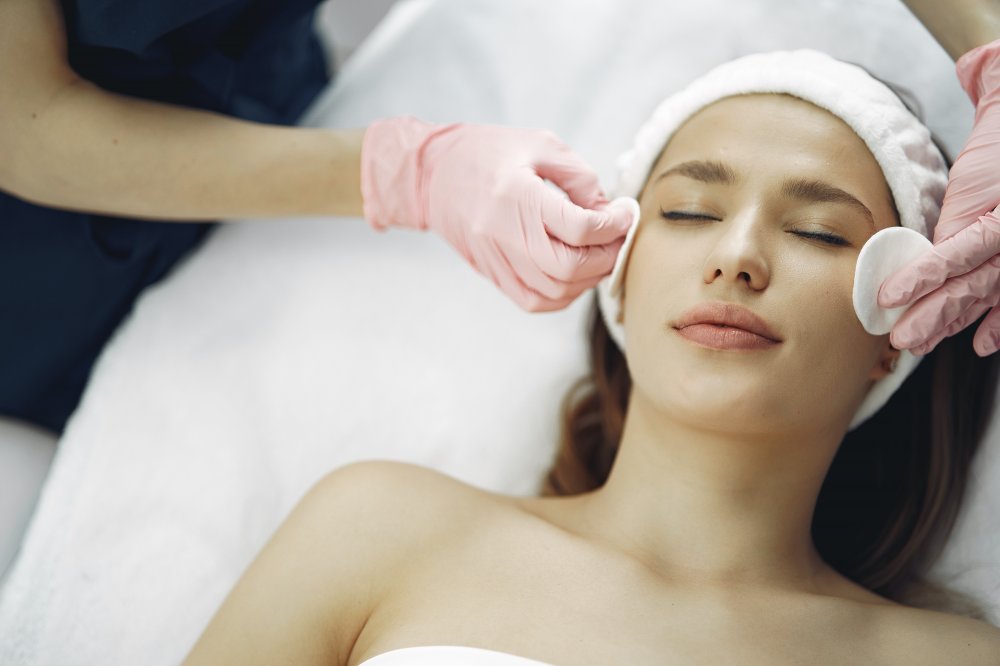 Posted on April 26th, 2021 at 12:01 PM
After a long winter, it's no surprise that your skin is feeling dull and dry. Not to mention, your inner sunshine has become dim and you've completely fallen off the wagon of any skincare routine.
If your cheeks are burning and you're feeling like this is all too relatable, don't be embarrassed. We're all in the same boat, which is why we're so excited to share the benefits of facial treatments!
These types of spa treatments (which range greatly in variety!) are just the thing we need to wake up our skin, regain our glow, and kick start our self-care this season! Don't believe us? By the end of this list of 7 benefits of facial treatments, you'll understand exactly why we booked our spring spa facial session weeks ago.
1. Facial treatments reduce wrinkles
One of the many widely known benefits of facials is their ability to reduce wrinkles and other signs of aging. Facial massages and treatments are known for accelerating the cell regeneration process by stimulating circulation and inspiring the lymphatic system to drain correctly. This reduces puffiness and swelling as well as the appearance of wrinkles.
2. Improve your skin's elasticity
Skin elasticity goes hand in hand with the reduction of wrinkles. Improved elasticity means skin is more resilient and less likely to get wrinkles in the future.
This benefit of facial treatments comes from a number of factors. Firstmost increased skin elasticity can be a result of the increased blood circulation facials provide. Some types of facial treatments are even intended to specifically increase elasticity, like the Vitamin C Anti-Aging Facial.
3. Reduce stress with a facial treatment
Did you know that there are hundreds of pressure points across your entire face? Even though you can't see them, these little areas can have a powerful effect on your physical and mental wellbeing. We know this to be true thanks to recent evidence that the effects of stress have a huge impact on our bodies, as well as our brain.
Facial treatments that involve pressure are phenomenal at reducing stress for this reason. Similar to a deep tissue massage (though much more gentle), pressure applied on these points helps relax muscles and tissues that otherwise are difficult to relax.
Learn more about how facial spa treatments are beneficial for stress relief.
4. Facials as a form of self-care
As we know, self-care is super important. Facials are a great way to take time to pamper yourself at the spa. Making a point to get a facial is making space to prioritize your wellbeing. Not to mention, we all feel better when we have taken the time to do something that makes us feel well taken care of and beautiful!
5. Clear blemishes the right way
Instead of popping every pimple, which we all know leads to even worse acne and can even leave lasting scars, opt-in for a facial. Facial treatments such as microdermabrasion suck out the contaminants from clogged pores.
By removing the gunk from blackheads and whiteheads (as opposed to spreading it around —which is what happens when popping pimples) facials can reduce annoying acne.
If you are looking for this result, talk to your esthetician about clarifying and microdermabrasion facials.
6. Rejuvenation is a top benefit of antioxidant-rich facials
Whether you're ready to admit it or not, daily life can dull skin's natural glow. Pollution, sun exposure, certain products, habits, or even just the general grime of everyday activities can clog microscopic pores in our skin. The result is skin that is dry, tired, and dull.
Facials are one way to combat this! By adopting facial treatments into your skincare routine, you can brighten, lighten, and rejuvenate your skin. If this is your ultimate goal, check out facial treatments that include products that are high in antioxidants.
7. Learn practices for better at-home skincare
Speaking of a skincare routine, one of the lesser-known benefits of facials is the lasting effect they have on your at-home skincare. Facials are (unfortunately) not a one-time miracle cure for acne, dull skin, or even signs of aging. No, instead they are a good base to adopt in addition to an at-home routine.
Think of facials like running. If you only do one extra-long run every two weeks or once a month, but sit on your couch and do nothing every other day, you won't actually receive the benefits of the exercise.
Instead, you'll want to pair your long runs (facials), with daily walks (at-home skincare routines) to keep your body looking and feeling bright, vibrant, and beautiful!
Book a Facial at Panache
Are you ready to get started with a facial routine? Book your appointment today to have one of our estheticians work with you to find the perfect facial for your complexion.