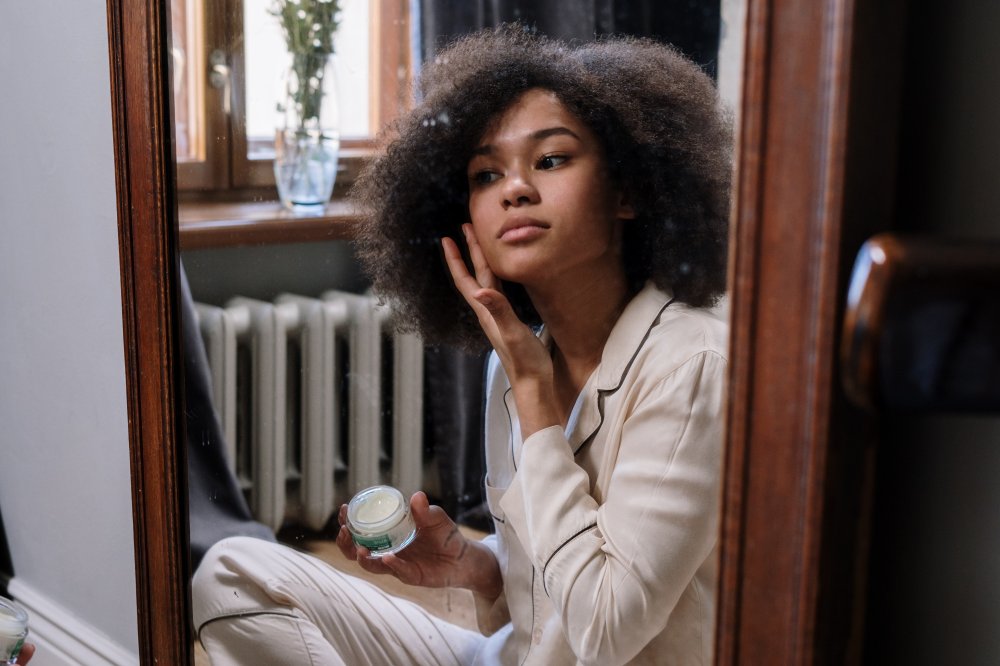 Posted on July 20th, 2020 at 3:26 PM
Creating a daily skincare routine may seem daunting. Where do you even start when there are so many skincare routines and products on the market?
While we know that all skin is unique and finding a routine that works for you is personal, we also have seen immense success in this simple 6-step morning skincare routine. All you need is 10 minutes of extra time in the morning and your skin will be glowing all day long! Not to mention, after taking time for yourself to start the day, you'll be sure to feel your best.
Step 1: Cleanser
When creating a successful skincare routine, it is important to start with a clean slate (yes, we mean face). Cleanser is the first step in this process. Beginning with a wet face, either in the shower or over the skin as the coffee brews, apply your cleanser. Rub it into your skin in small circular motions. Don't forget to cleanse around your jaw and under your chin — a commonly forgotten area.
At Panache Salon, our favorite is SkinCeuticals Simply Clean pore refining gel. This cleanser exfoliates and soothes normal, combination or oily skin.
For acutely dry skin, try to find a cleanser with less exfoliating power. Your tender face doesn't need as much grit.
Rinse off the cleanser and pat dry with a soft towel.
Step 2: Toner
Once your face is clean and dry, it's time for tonor. A toner is a fragrance-, oil-, and alcohol-free liquid that gently removes excess residue and balances the skin's natural PH level. Spray or soak a cotton pad with toner. Apply thoroughly over the face.
Our fave toner is SkinCeuticals Equalizing Toner. Two sprays on a cotton round, apply to the face. Allow to dry slightly before moving onto the next step.
Step 3: Serum
"What's serum?" you ask. It's a magical super-potent tool that will totally change your skin.
This blogger lays out everything you need to know about serums, here.
Until a few years ago, no one had ever heard of these powerful products. But now that the beauty world has seen the light, serums have become a vital part of any morning skincare routine.
There are hundreds of serums to choose from — each with a different focus (i.e. there are serums for extreme dry skin, wrinkles, firming, redness, etc.). If you're new to the world of serums and just getting started establishing your skincare regime, we recommend SkinCeuticals CE Ferulic. This all-around serum is a triple antioxidant vitamin C supplement that delivers advanced protection from environmental factors like sun and wind.
While offering protection, this vitamin-packed serum brightens skin's complexion and improves the appearance of fine lines and wrinkles.
To use, apply 3-5 drops to the face, neck and chest. Try your best not to touch the dropper to the surface of your skin as you don't want to transfer any bacteria and allow it to live inside the bottle. Rub the serum in softly in circular motions like you did the cleanser.
Note: It is important not to forget this step! Your first round of serum (yes, first) should be applied directly to your skin — before moisturizer — so that your skin can soak up all the vitamin goodness without the barrier of lotion.
Step 4: Moisturizer
We're more than halfway done with this morning skincare routine! Give your skin a minute. Make yourself a cup of coffee and begin getting ready for your day.
When you're ready, apply moisturizer. The one we like to recommend to our customers at Panache is the SkinCeuticals Triple Lipid Restore 2:4:2. This anti-aging corrective moisturizer helps to refill cellular lipids and nourish the skin. Warm and melt this cream in circular motions across the face. Don't forget to apply some to your neck and chest as well!
While that's our go-to recommendation, use your favorite moisturizer!
Step 5: Serum
Another round of serum and we are almost done with our morning skincare routine. The first serum was for repair and vitamins, this second serum is to keep your beautiful skin looking super hydrated.
Popular these days are hyaluronic acid-based serums. (SkinCeuticals makes a great one!) Hyaluronic acid replenishes moisture and restores radiance to tired skin for a smooth, radiating complexion.
Apply in the same way you did the first round of serum.
Step 6: SPF
Finally, apply a nickel-size amount of SPF 50 sunscreen to help protect your skin and ensure that you will be glowing for years to come!
If you have any questions, feel free to

reach out to us at

814.838.3333!
If you're on the move and don't have time to talk on the phone, then shoot us a message with the form below and we will be in touch to help you maintain the most beautiful you.