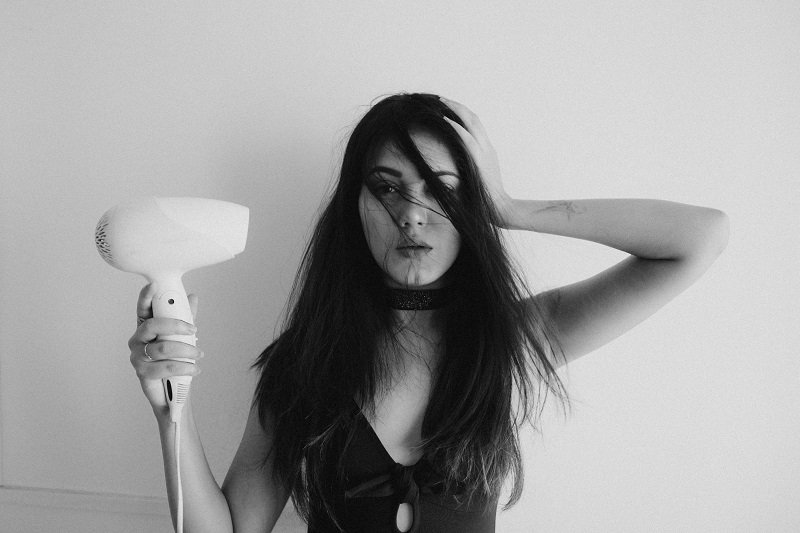 Posted on June 2nd, 2020 at 1:59 PM
It's no secret that hair salons are closed for the time being, and with COVID-19 ravaging the world, who knows when we'll be able to sit in those comfy salon chairs getting pampered by our favorite stylists! However, that doesn't mean our hair has to suffer while we are home in quarantine. Learn how to get a professional blowout in the comfort of your own home with these easy to follow steps.
Oribe Feather Balm
Oribe Superfine Hairspray
Sebastian Dark Oil
Blow Dryer
Clips/Hair ties
Hairbrush
1. Prep Your Hair
The first step in creating your silky smooth blowout is to add blowout-friendly hair products to keep your hair healthy and safe from potential heat damage. Evenly apply the Oribe Feather Balm for an airy, feathery look and feel. Next, apply the Sebastian Dark Oil to produce that smooth, silky look you are going for.
After adding the product, use your clips or hair ties, whichever you have on hand, to section your hair into 4-6 inch sections. Leave the last remaining section down, as this will be the piece you start with.
2. Blow Dry Each Section
Using the loose section of hair and starting from the roots, pull it taut using the brush (it is recommended that you use a round brush, but it is not required). Pull your hair up while closely following with the blow dryer. Try to avoid pulling the hair down; this will help with volume. The blow dryer should be close to the bristles of the brush, but not actually touching them. Skip the front section (also known as the crown) for now.
3. Roll the Sections
This step is optional. If you are going for a more wavy/curly blowout, after drying a section, roll it around your pointer and middle fingers and clip it back up. When rolling, point your fingers toward the mirror instead of toward your eyes. Additionally, you can leave a small section at the end out of the coil, giving your hair the bouncy, salon-styled look without the curl going all the way to the end.
4. Time for the Crown
Now, it's time to tackle the top. Unclip the remaining section of your hair. This part will be a little different because instead of placing the brush under your hair, you are going to place it behind. This will allow for more volume. Take your blow dryer and dry the section as you would any other, pulling the hair taught and upward with your brush while blow-drying.
A Silky Smooth DIY Blowout at Home
Now that the hard part is out of the way, it's time to add the finishing touches to your at-home blowout! If you'd like to add more volume, you can tease the crown so it appears fuller. We also recommend straightening the ends of your hair, as it might have creases due to clipping. Finally, spray your hair with Oribe Superfine Hairspray. This will give you a blowout look that holds all day!
We look forward to opening back up and seeing you in our salon, but for the time being, the best we can do is provide you with tips and tricks on how to get a look that appears professionally done. We hope to see you soon!